New Poem – Sylvia & Ted…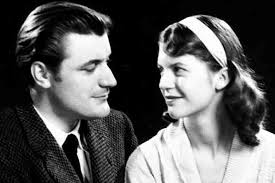 To seek solace as they did.
To draw strength from the natural world,
Only for it to tighten its remorseless grip,
Till it brings you face to face
With elementary truths
That spear your insignificance
And stake it to the ground without pity,
Like a trophy,
Like the bloodied innards
Of a wounded animal,
Caught in the final dazzle of despair.
I can imagine that,
Before she left him,
They might have often sat indoors,
Hidden away from the awful truths
They had uncovered,
Watching the heat from the fire,
Cast in germ-like shadows,
Rise slowly up the wall.
All too aware
That their time together was now melting away.
Two souls emptied, hollowed out,
By the risks taken in pursuit of meaning.
And, at the window,
Diamond truth.
The hawk's eye
That mocked them without mercy
And harried them, desolate, to their graves.