Stepping back…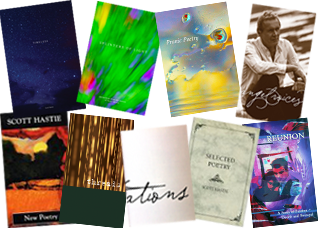 With the publication of my long sought for and landmark collection'Threads' back in 2016. Which, although admittedly rather slim, was really the book I always wanted to write, followed by 'Pranic Poetry'which made such an unexpected impression during the pandemic lockdowns of 2020, I already felt truly blessed by the appreciative attention my writing was getting all around the world. This prior to the further explosion of interest generated by my two 30th year anniversary 'Best of' collections: 'Timeless'and 'Splinters of Light' Equally gratifying that there was then sufficient interest to justify two of my much earlier titles from the 1990's 'Selected Poetry'and 'New Poetry' being re-issued as ebooks earlier this year.
So now with scotthastie.com also continuing to make such dizzy headway, seemingly effortlessly able to generate its own momentum these days, I myself am now planning to step back and slow down creatively for a while. Some more time to reflect and in particular to re-charge my spiritual batteries is now needed, I think.
Of course, along with developing my interest in life fitness, meditation and healing, as well as spending more time with family & friends. And in my garden! I'm sure I will be inspired to be creative along the way…
Indeed, still be releasing the occasional new poems and fresh quotes on scotthastie.com as I always have done. Particularly when 'the voice' comes through, strong and true to me… But, for the time being at least, not chasing my muse with such a vengeance!
More time for travelling and adventuring perhaps and having fuller freedom to take the sweet moments of life, just as they come to me… And, who knows, this adjusted approach well may well usher in brand new challenges, experiences and achievements in this, the next chapter my life. So many thanks to the countless souls all around the world for all your wonderful support and encouragement, especially these past ten years. And for allowing what I do to touch your lives. I have been and indeed remain both truly humbled and blessed by that.
Much Love, Light and Joy to you ALL in the time still to come…